Dear Community,
The General Election is upon us! See below for our voter's guide on the CA statewide and local ballot propositions and remember to register and cast your vote by November 8, 2022.
The impact of your vote cannot be overstated. In fact just last month, with a 4-3 vote by the city council, Santa Ana became the first ever city in Orange County to approve a rent registry & board in a major victory for rent stabilization and tenants' rights. Thank you to the leadership of Tenants United Santa Ana and everyone who helped make this possible and showed up with us during this push!
This victory comes on the heels of years of community advocacy from a multiracial, multigenerational coalition of renters, mobile home residents, allies, and supportive city council members. And while the importance of organizing cannot be overstressed, ultimately it is your vote that decides which candidate grabs a seat on your city's council and has the final say. We hope to see you at the ballot box this November 8th!
Mark Your Calendar & Get Involved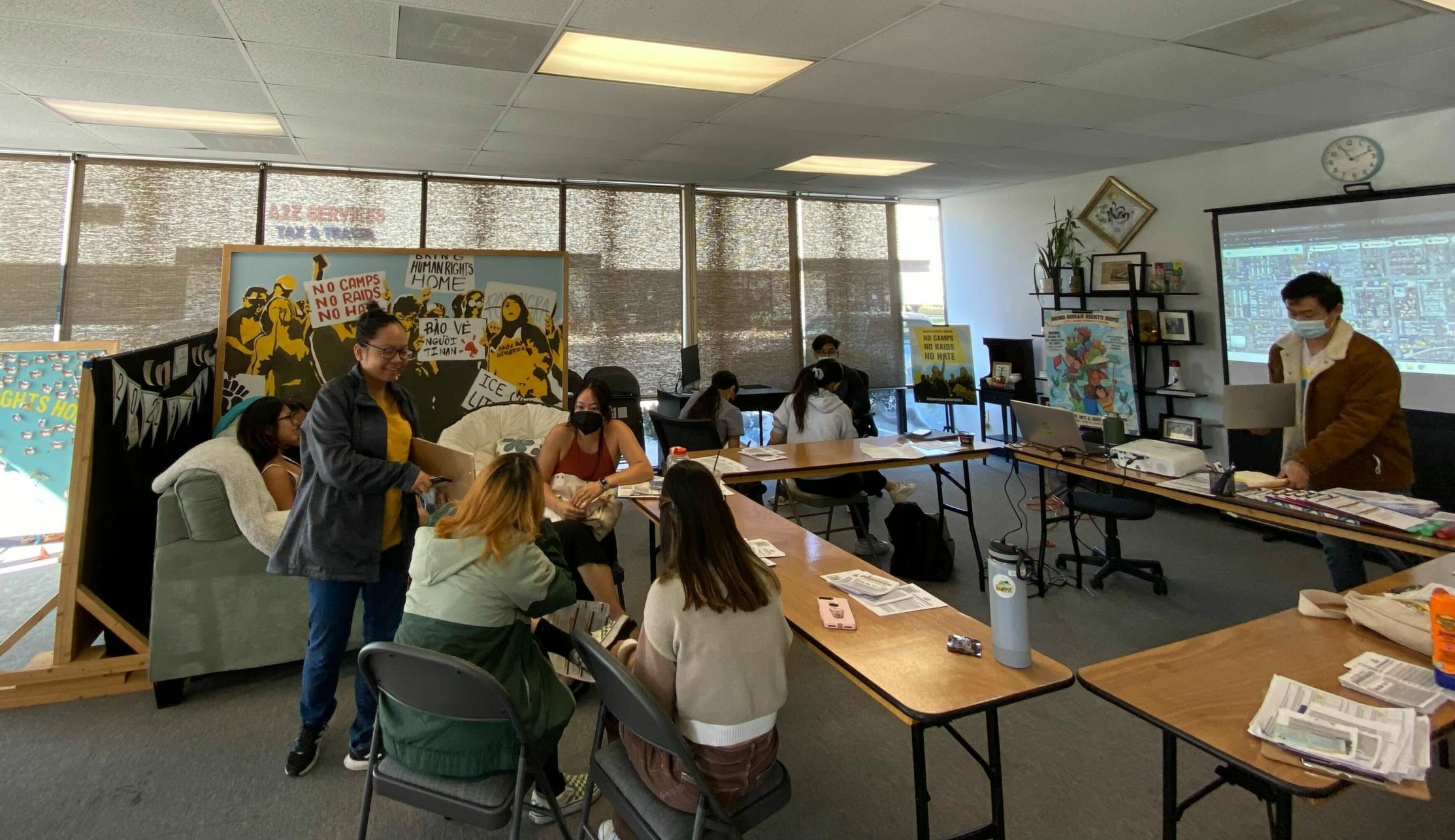 Saturday 11/05 @ 10AM - 3PM: Last chance! Volunteer with us to #GetOutTheVote
Canvass with us in Little Saigon! We will be going door-to-door to talk to residents about the upcoming election, how to vote, and important ballot measures.
No previous experience is needed, Vietnamese speakers are welcome.
This is a wonderful opportunity to build relationships with the VietRISE community, become acquainted with ballot measures/voting, and break down barriers to civic engagement. Shout out to everyone who joined us last Saturday!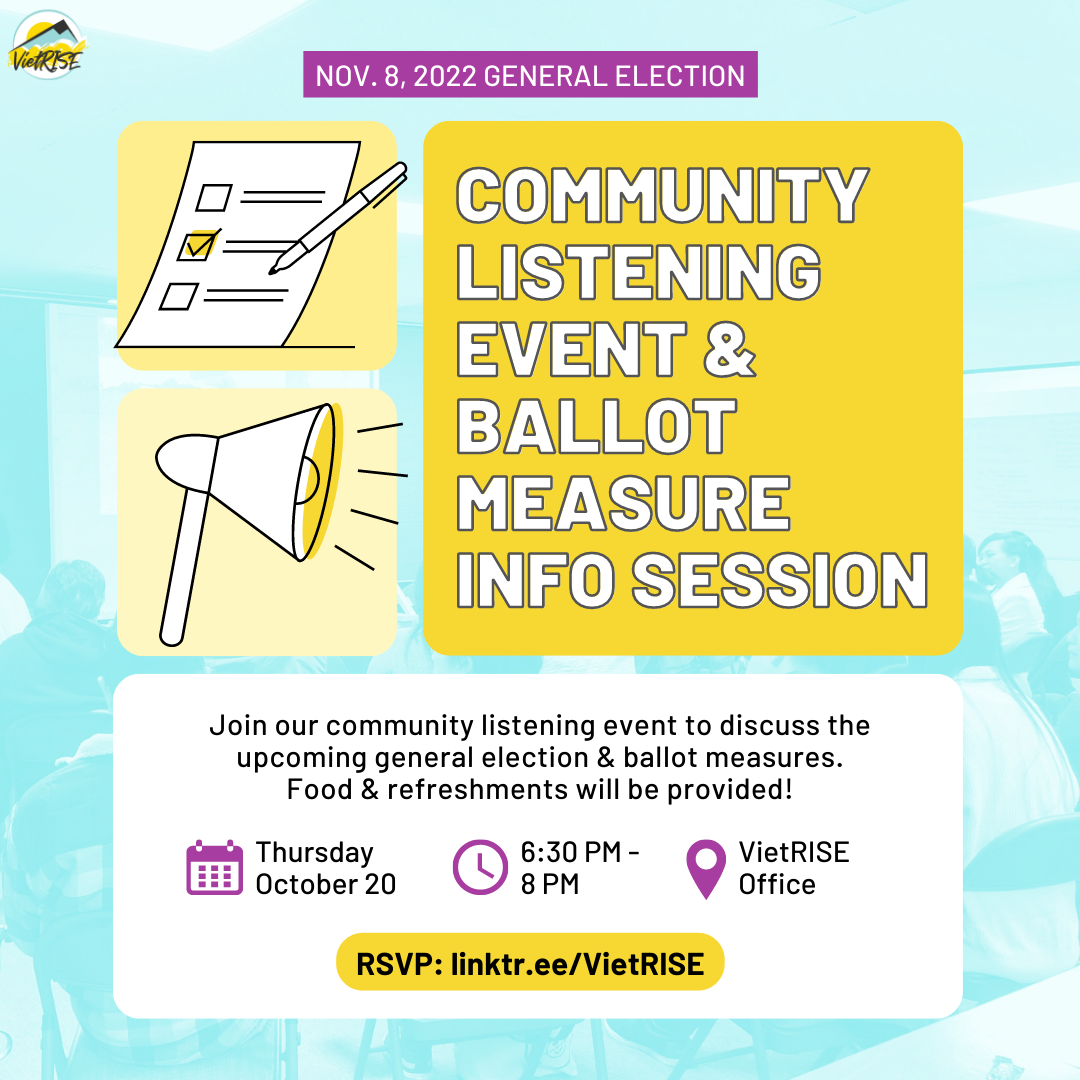 Tuesday 11/29: #GivingTuesday
With Thanksgiving coming up, #GivingTuesday is around the corner! Consider participating in the
global generosity movement
and
help VietRISE
continue to build a movement of social justice amongst Vietnamese and immigrant communities in Orange County.
Our fundraising goal this year is $5,000! Any contribution you make, whether $5 or $50 will ensure that we are able to continue our organizing efforts, advocacy work, and leadership development.
Donate one-time or become a monthly donor at bit.ly/supportvietrise.
VietRISE's California Ballot Propositions Voting Guide & Recommendations
Confused or unsure about how to vote for the CA state and local propositions and ballot measures? We've got you covered! Check out our voting guide and recommendations on our website below.
⬇️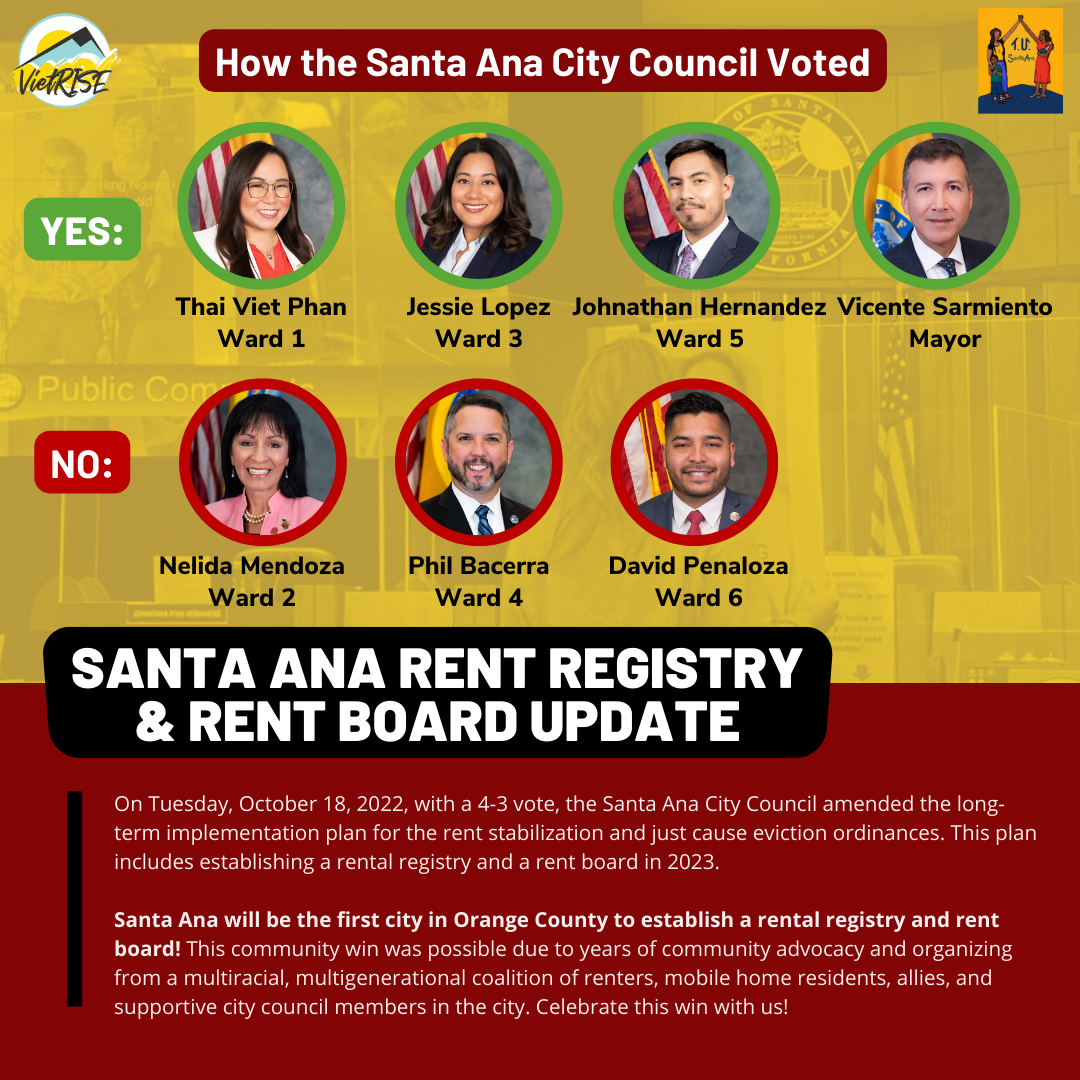 Community Win: The City of Santa Ana will Establish a Rental Registry & Rent Board
The Rental Registry will assist in enforcing the city's Rent Stabilization Ordinance and serve as a database for tenants to look up rental units, flag illegal rent increases, and track the history of rent increases.
The Rent Board will serve as a place for tenants to address disputes with their landlords outside of court and the appointed members will be responsible for overseeing the enforcement and compliance of the city's Rent Stabilization and Just Cause Eviction ordinances.
The registry and board will be established in 2023 and will strengthen the rights and protections for tenants, and help ensure that the people who call Santa Ana home can remain in the city.
Celebrate with us and share this community win on Instagram!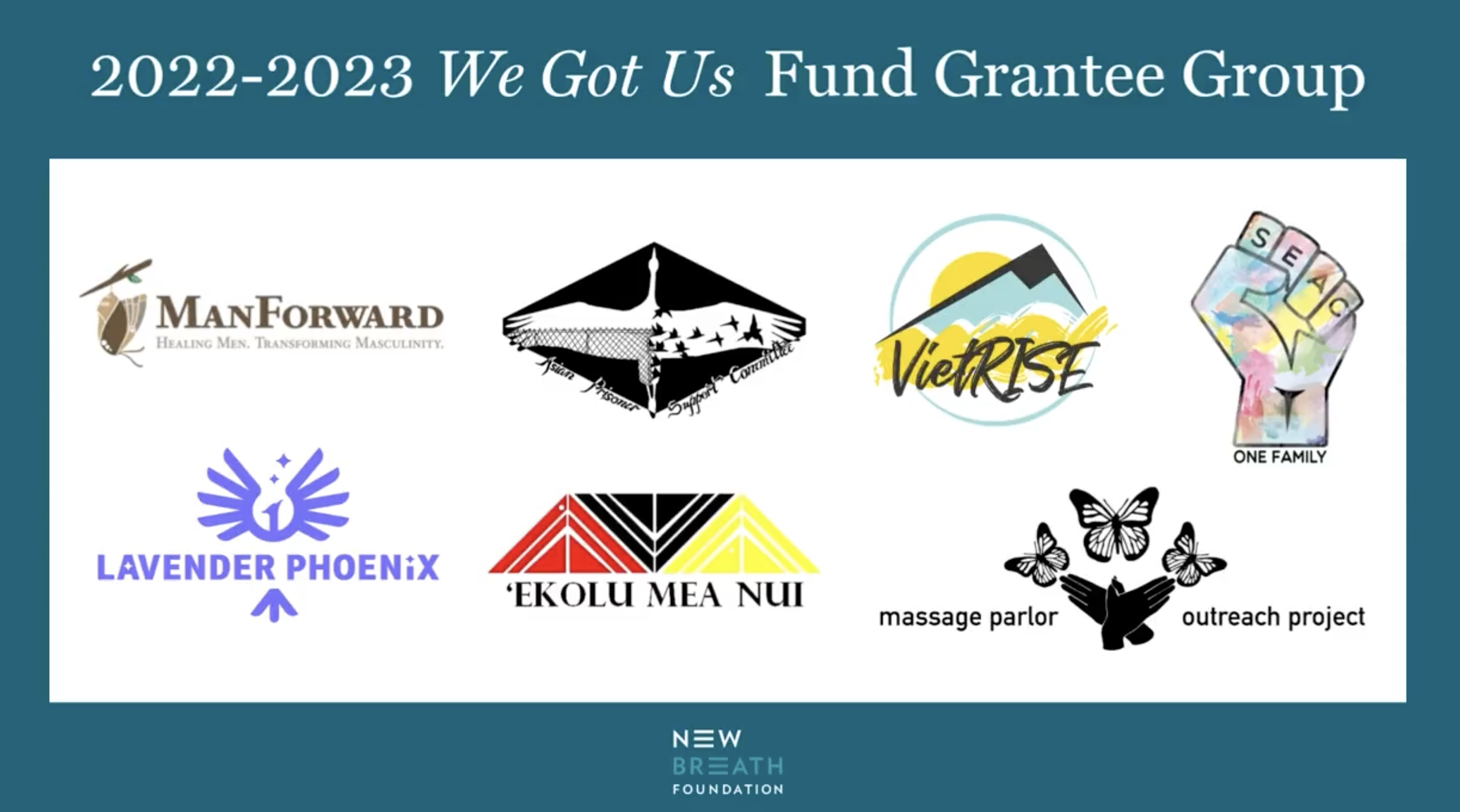 VietRISE Receives Grant from the New Breath Foundation's We Got Us Fund
We are honored and excited to share that we are one of 7 grantees in the 2022-23 group for the
New Breath Foundation's
We Got Us
Fund.
Created in 2021, the We Got Us Fund supports AANHPI communities to build power, promote racial solidarity, and cultivate healing between AANHPI communities and Black, Indigenous, and people of color communities.
The We Got Us Fund will address racialized violence against the AANHPI community by advancing cross-racial solidarity, long-term sustainable power, and effective alternatives to criminalization.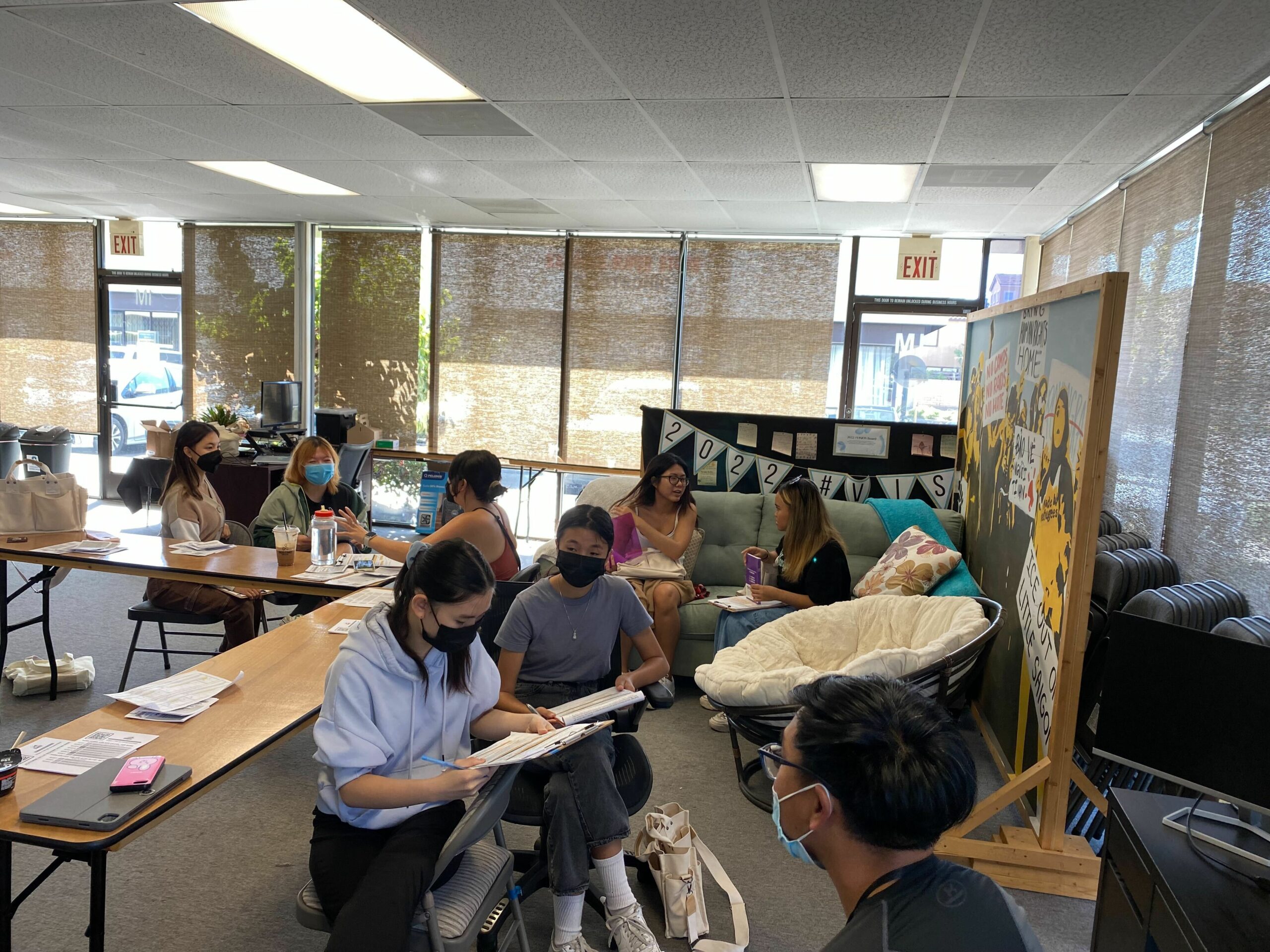 Thank You #GetOutTheVote Volunteers!
Shout out to our General Election team and our volunteers Allison V., Chloe N., and Chi H. for your stellar efforts in canvassing Little Saigon last Saturday! Together, we knocked on over 170 doors and spoke with 80+ residents, increasing our total outreach to 1400+ residents and counting! We welcome anyone else interested to come out this Saturday 11/5 for our final volunteer canvassing session.