VietRISE 2022 General Election California Ballot Recommendations
Statewide Ballot Measure Voting Guide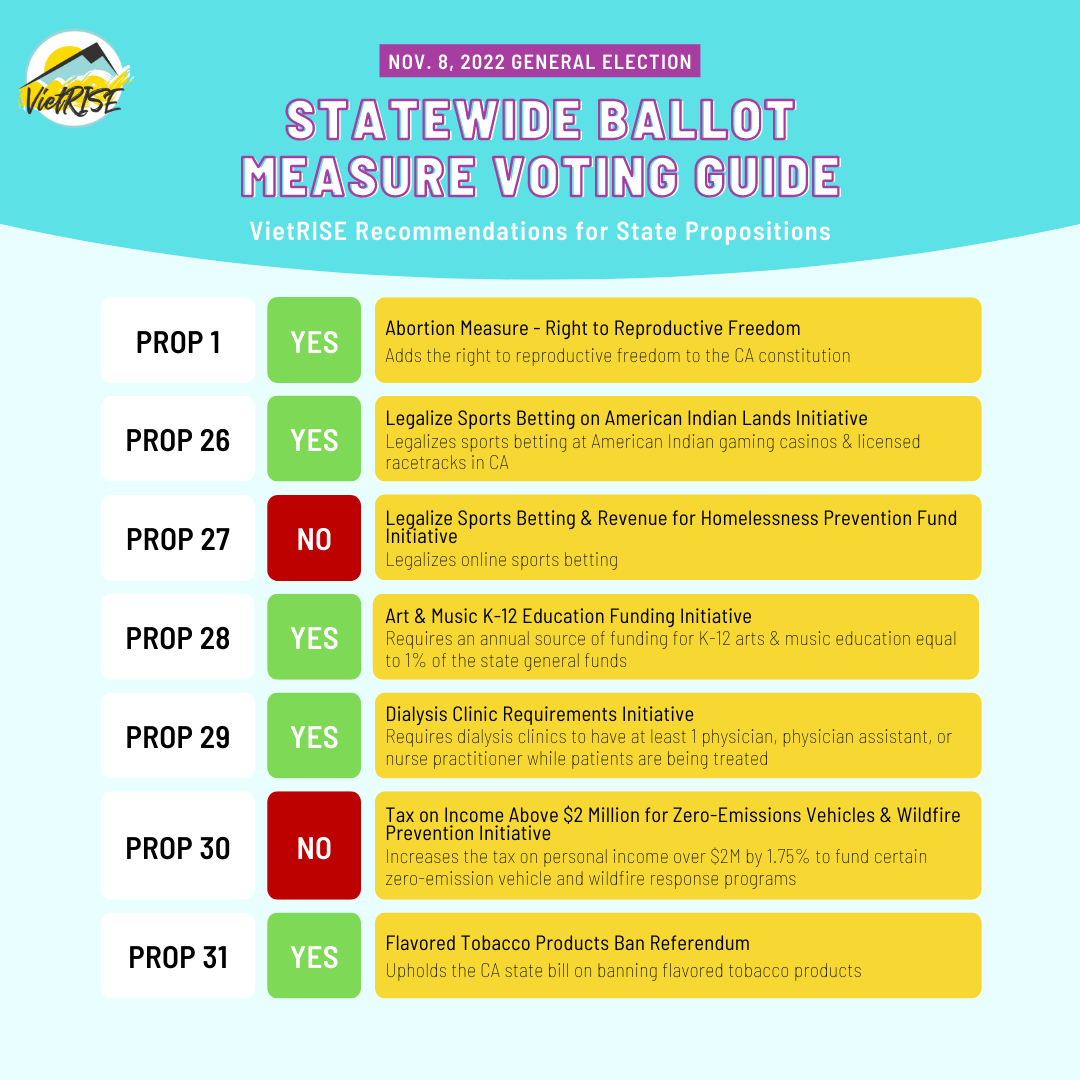 Prop 1: Abortion Measure – Right to Reproductive Freedom
Vote YES on Proposition 1 to amend the state constitution and prohibit the state from interfering with people's reproductive freedom. Prop 1 will formally include reproductive freedom rights in our state constitution, meaning the right to an abortion and contraceptives. Access to abortion and reproductive health care is a human right, and all people deserve bodily autonomy.
Prop 26: Legalize Sports Betting on American Indian Lands Initiative
Vote YES on Proposition 26 to create more jobs, keep sports betting revenue within California, and support Native American tribes. Prop 26 will allow federally recognized Native American tribes to operate roulette, dice games, and sports wagering on tribal lands. 10% of the profit derived from sports betting will go toward research and programs to address problem gambling and mental health, the Bureau of Gambling Control, and to the state general fund.
Prop 27: Legalize Sports Betting & Revenue for Homelessness Prevention Fund Initiative
Vote NO on Proposition 27 to prohibit online sports betting in California. If passed, under the guise of supporting housing and mental health services, Prop 27 would allow out-of-state corporations like DraftKings to profit from and exploit the revenue generated from the legalization of online sports betting. Prop 27 does not adequately address structural issues that produce houselessness and severe mental health. It will also undercut tribal sovereignty.
Prop 28: Art & Music K-12 Education Funding Initiative
Vote YES on Proposition 28 to increase funding for K-12 public schools for arts and music education to be equal to, at minimum, 1% of state and local revenue. Art and music are integral to self and community expression and are tools to shape our culture. Young people deserve to be empowered and access spaces, artistic mediums, and education that will allow themselves to creatively flourish.
Prop 29: Dialysis Clinic Requirements Initiative
Vote YES on Proposition 29 to ensure dialysis patients have quality healthcare they need and deserve. Prop 29 will require dialysis clinics in California to have licensed medical professionals on-site. Currently, this is not required by dialysis clinics in the state. Opponents of Prop 29 have a monopoly over this industry and seek to profit from patients rather than prioritizing patient health.
Prop 30: Tax on Income Above $2 Milion for Zero-Emissions Vehicles & Wildfire Prevention Initiative
Vote NO on Proposition 30. Prop 30 would impose an additional 1.75% tax on individual income over $2 million for certain zero-emission vehicle programs and wildfire prevention and response programs in CA.
Although it sounds like this tax and the programs will meaningfully address climate change, Prop 30, with Lyft as its biggest proponent, serves primarily as a corporate bailout attempt for rideshare companies. A California law passed in 2021 requires rideshare companies to convert 90% of their vehicles to electric cars by 2029. Rather than pay the costs to convert to electric cars themselves, if this prop passes, most of the costs for companies like Lyft to make the conversion would be paid for by tax dollars collected from Prop 30's tax increase.
Prop 31: Flavored Tobacco Products Ban Referendum
Vote YES on Proposition 31 to ban the sales of flavored tobacco. Flavored tobacco has strong negative impacts on the health of youth and adults. Prop 31 will help curb its consumption.
Local Ballot Measure Voting Guide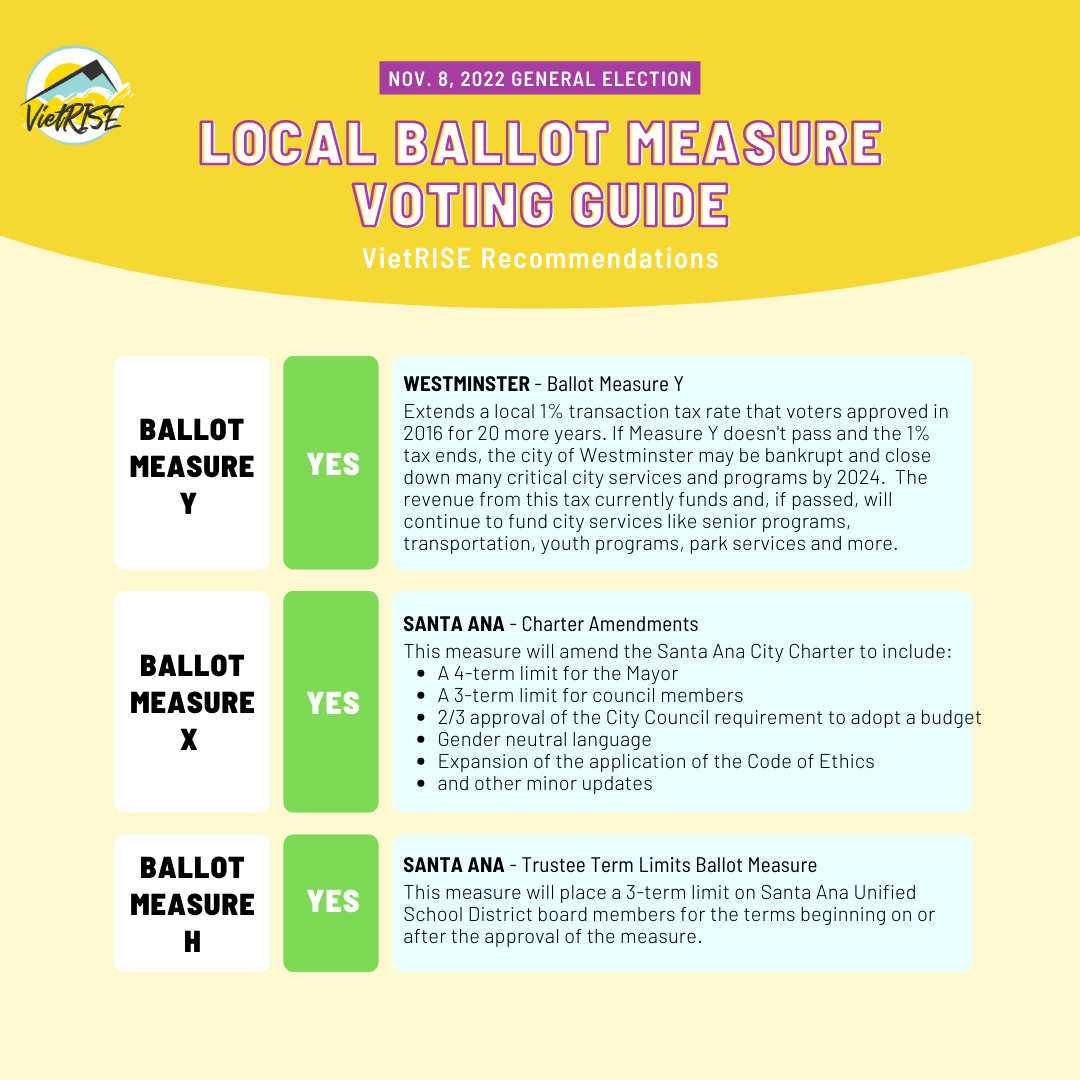 Westminster
Ballot Measure Y
Vote YES on Measure Y to maintain the 1% sales tax that funds city services. If Measure Y does not pass, Westminster will become bankrupt and many city services will be canceled or drastically reduced. Taxes collected from this measure will fund critical community services and programs, such as the Senior Center, street repairs, park services, and many after-school youth programs. Westminster residents should not have to lose critical programs and services due to the mismanagement of the city by City Council members.
Santa Ana
Ballot Measure X – Charter Amendments
Vote YES on Measure X to institute lifetime term limits for City Councilmembers. Measure X will enact a 4-term limit on Mayors and and a 3-term limit for Councilmembers. Term limits help to reduce corruption and increase transparency within government. Term limits help prevent the accumulation of local political power to a few people in office. They allow every day people to run for office without having to fundraise exorbitant amounts to compete with incumbents who have accumulated wealth and political connections in office.
Santa Ana
Ballot Measure H – Trustee Term Limits Ballot Measure
Vote YES on Measure H to institute a 4-term limit for Santa Ana Unified School District board members. School board members help determine the quality of education and resources that children receive. Term limits help to reduce corruption and increase transparency within government by preventing incumbents from accumulating political power at the expense of students and families, which can result in members prioritizing specific interest groups over the wellbeing of students, over many terms.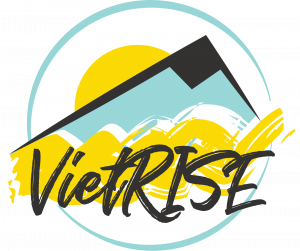 OUR MISSION
VietRISE advances social justice and builds power with working-class Vietnamese and immigrant communities in Orange County. We build leadership and create systemic change through organizing, narrative change, cultural empowerment, and civic engagement.