Dear Community,
Five years ago on April 26, 2018, I had the privilege and joy of unveiling our organization's new name to a room full of community members in Santa Ana during our second listening session event. We had just mobilized hundreds of community members in Little Saigon to rally and defend sanctuary for immigrants and refugees, and we sat down together at this event to discuss our diverse Vietnamese community's experiences and priorities. With this announcement, this was the day we officially became VietRISE!

As you know, Orange County is home to the largest Vietnamese community in the world outside of Viet Nam. Our team and community at VietRISE are on the forefront of advancing a progressive social justice movement in Little Saigon that has been a long time coming. This movement emerged thanks to the tireless work and vision of many amazing organizers and community leaders who paved and continue to pave the way for us to be here today.

For 5 years, we have envisioned a Vietnamese community that works in solidarity to bring about transformative organizing that changes the economic and living conditions of all people for the better. We believe that how we treat those who are most vulnerable and who are seen as having the least power and resources is what says the most about who our community is.

We would not be here without you, our community. What we do at VietRISE is for our community, to make sure we collectively work to build a more connected and compassionate Little Saigon. If you have the means to contribute to VietRISE to help celebrate our anniversary and sustain our work, please do so here. Thank you for a wonderful 5 years, and to many more.

In solidarity,
Tracy La
Mark Your Calendar & Get Involved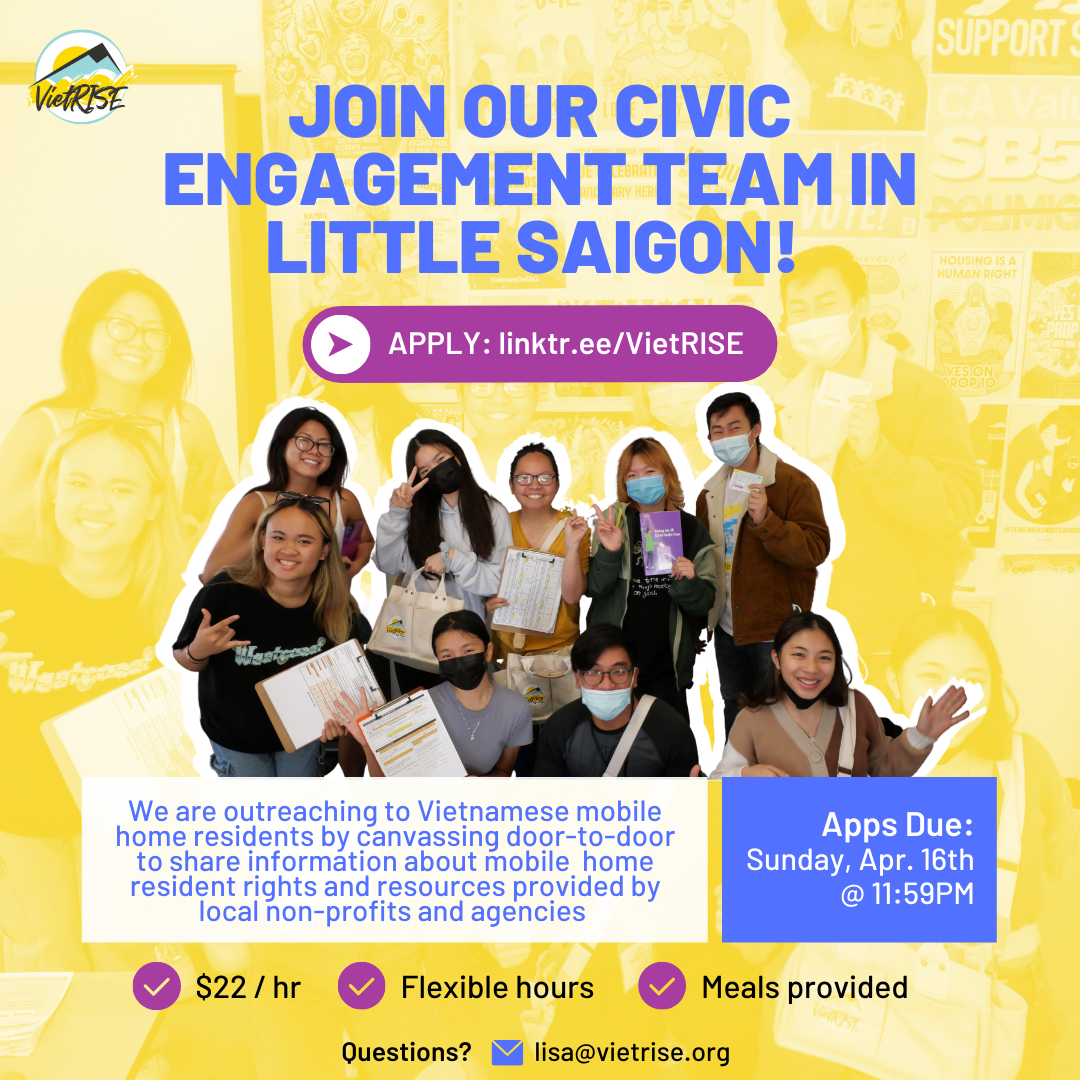 Sunday, 4/16 @ 11:59PM: Apply to Join Our Paid Civic Engagement Team!
Join us in door-to-door outreach to mobile home residents in Little Saigon! This team will inform Vietnamese mobile home residents of their rights and connect them to resources provided by local non-profits and agencies. We aim to equip mobile home residents, especially those facing rent hikes and eviction, with tools to advocate for and defend themselves.

This is a short-term paid contractor position ($22/hr) for 6 weeks starting May 2nd through June 7th. Prior canvassing experience is preferred but not required. Training and meals will be provided. Interviews will be conducted on a rolling basis, so apply early!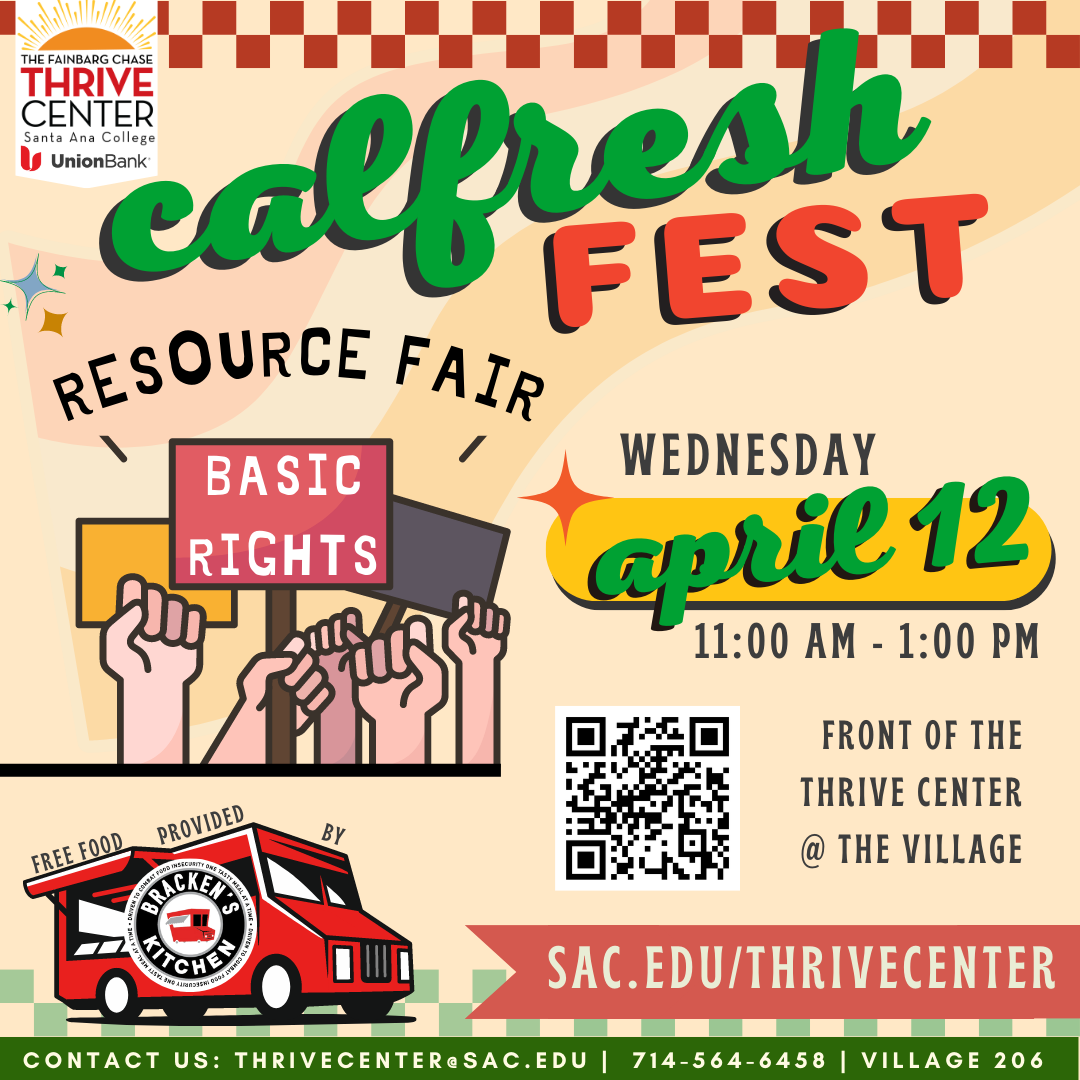 Wednesday, 4/12 @ 11AM - 1PM: Santa Ana College Thrive Center's CalFresh Fest & Resource Fair
Catch VietRISE at this event hosted by SAC Thrive Center! Learn more about CalFresh, on- and off-campus programs, and basic needs resources, including food, housing, clothing, immigration support, and more. There will also be representatives from the OC Social Services Agency to assist with CalFresh and Medi-Cal applications.
Saturday, 4/15 @ 9AM - 1PM: Santa Ana College Expungement Clinic & Resource Fair
The UCI Law Immigrant Rights Pro Se Clinic will be hosting a free clinic at Santa Ana College for community members wishing to remove previous convictions from their record. Come learn how to obtain post-conviction relief with the assistance of experienced attorneys from Community Legal Aid SoCal, UCI Law, and the OC Public Defender's office.
Saturday, 4/15 @ 10AM - 2PM: Free Housing, Immigration, & Family Law Legal Clinics
In partnership with Santa Ana Councilmember Thai Phan, community organizations are providing free legal services, and will have Vietnamese translators on April 15th and Spanish translators on April 20th. Residents will be able to ask attorneys questions on topics of housing, immigration, and family law. If they qualify for free services, the organization may take their case. Residents will be assisted on a first come basis, so arrive early!
VietRISE will be assisting and providing Vietnamese translation services.
Tuesday, 4/25 @ 12 - 2PM: CSUF Titan Dreamers Resource Center: Migration Is a Human Right Event
Catch VietRISE at the Migration is a Human Right Event hosted by the CSUF Titan Dreamers Resource Center!

Learn more about the Titan Dreamers Resource Center and what they do, connect to community organizations, learn more about resources available to immigrants, and discover opportunities to get involved! This event will take place at the Central Quad at CSUF.
Free KN95 Masks
We still have more free KN95 masks for anyone who is looking to restock their supply! Email indigo@vietrise.org or stop by our office between 11 am and 5 pm, Monday through Friday to pick up free bags of KN95 masks. Each bag comes with 50 masks, and each person can get 2 bags of masks.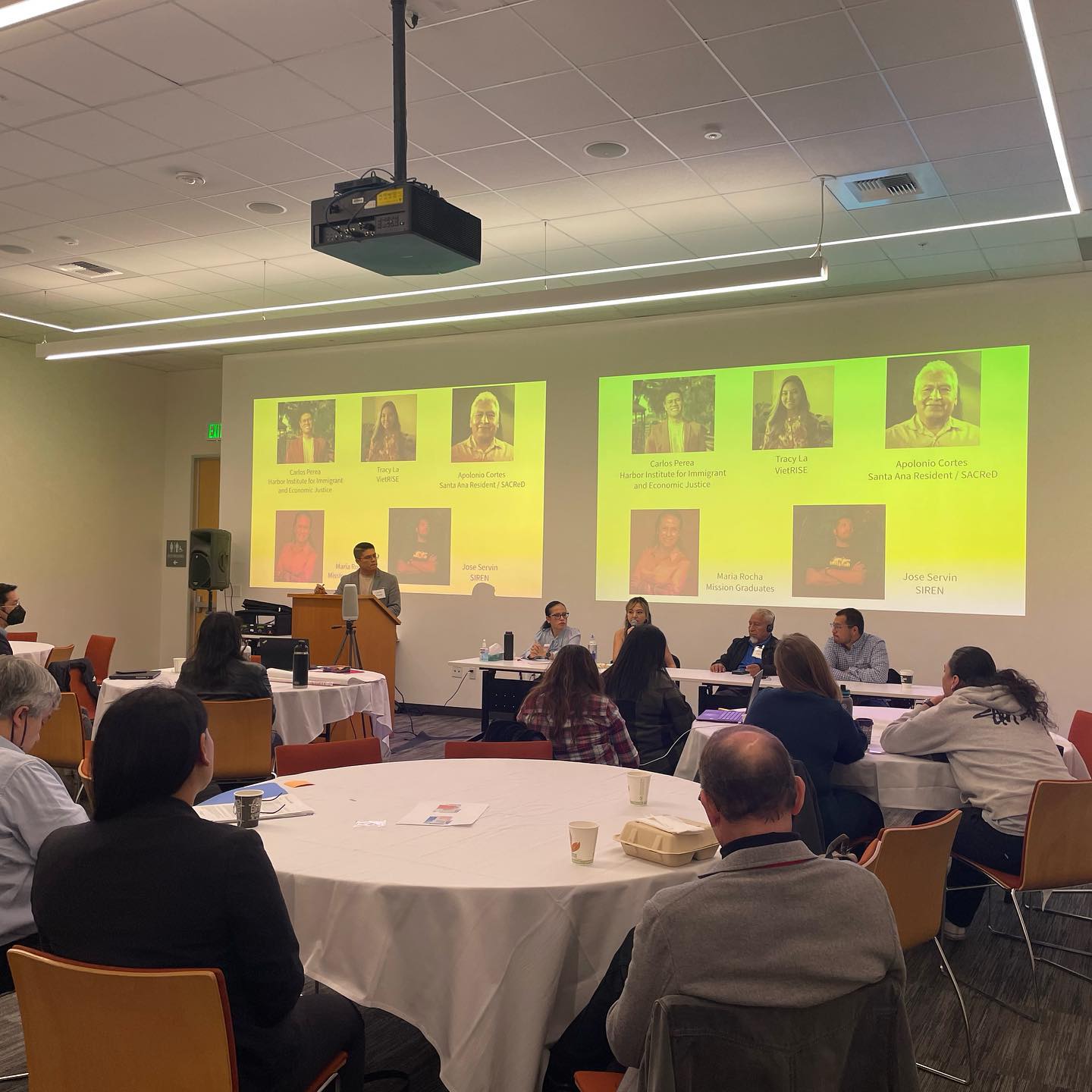 Expanding Immigrant Voting in California
Last week, we joined organizations from across the state working to expand voting rights at the local level. We came together with the commitment of ensuring that all immigrant and refugee communities have full political participation in the electoral process and can elect those who represent them.

We joined Harbor Institute and resident leader Apolonio to represent Santa Ana at a panel on the power of community organizing and highlighting the importance and power of building multiracial alliances.

Thank you so much to Chinese for Affirmative Action for making this convening possible!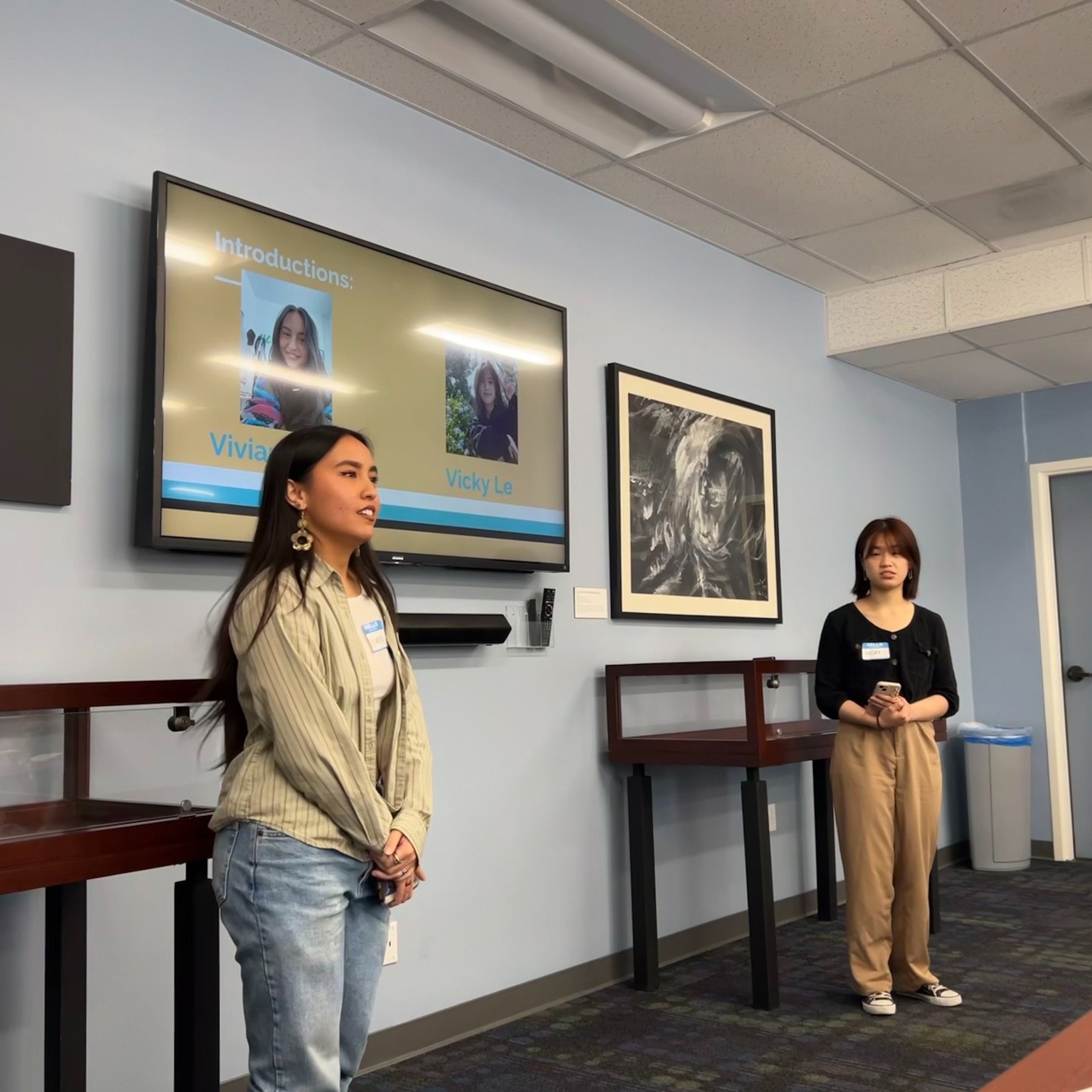 Last month, we had the honor of celebrating Vicky and Vivianna, our UCI TEACH interns, as they presented the amazing work they have been doing with the digital tour of Little Saigon. Their creativity shines through the interactive components of the digital tour, ensuring that community members from different generations are able to reflect and engage with the tour in a meaningful way. Thank you, Vivianna and Vicky, for all of your care and work!