Dear Community,
We hope this newsletter finds you well as we wind down 2023 and process the many challenges our communities are facing at home and abroad, particularly in Palestine. During our 5-year anniversary celebration dinner on October 18th, our Executive Director, Tracy, shared the following words:
I want to take a moment to express our unwavering solidarity with Palestine and the Palestinian community. We have seen every day for weeks now what is happening in Gaza. The Palestinians have faced 75 years of military occupation and genocide by the Israeli government, but the world is now seeing it on a scale that most of us have never seen before. Vietnamese people come from a lineage of anti-colonial movements and revolutionaries. Although we have not lived it, our hearts are connected to the Palestinian struggle for liberation and the return of their homelands.
As refugees and the children of Vietnamese refugees, we feel a deep connection to those who have been displaced as a result of imperial violence. We mourn the people who have lost their lives, homeland, and their loved ones; and we believe it's important to fight as hard as possible for those still living and for a Palestine free from Israeli occupation and apartheid. Please join us in calling on Orange County Congress members to demand an immediate ceasefire in Gaza.
For this newsletter, please take a look through our work from the last month and what's to come.
Mark Your Calendar & Get Involved
Tuesday, Nov. 7 @ 5PM: Santa Ana City Council Meeting Public Comment in Support of Noncitizen Voting
Join VietRISE and the Santa Ana Families for Fair Elections (SAFFE) Coalition to provide public comment in support of noncitizen voting during the upcoming Santa Ana city council meeting! On Tuesday, November 7,  the Santa Ana city council is slated to vote on placing a ballot measure on the 2024 November ballot for voters to decide if all residents in the city should have the right to vote in city elections. Please save the date and support the enfranchisement of nearly one in four Santa Ana residents who are noncitizens! 
Date: Tuesday, November 7 
Time: 5:30PM (Please arrive between 5 – 5:30PM to fill out and submit a speaker card)
Location: Santa Ana City Hall (22 Civic Center Plaza, Santa Ana, CA 92701)
* Parking available at 601W W Santa Ana Blvd, Santa Ana, CA 92701 (City hall will provide parking validation)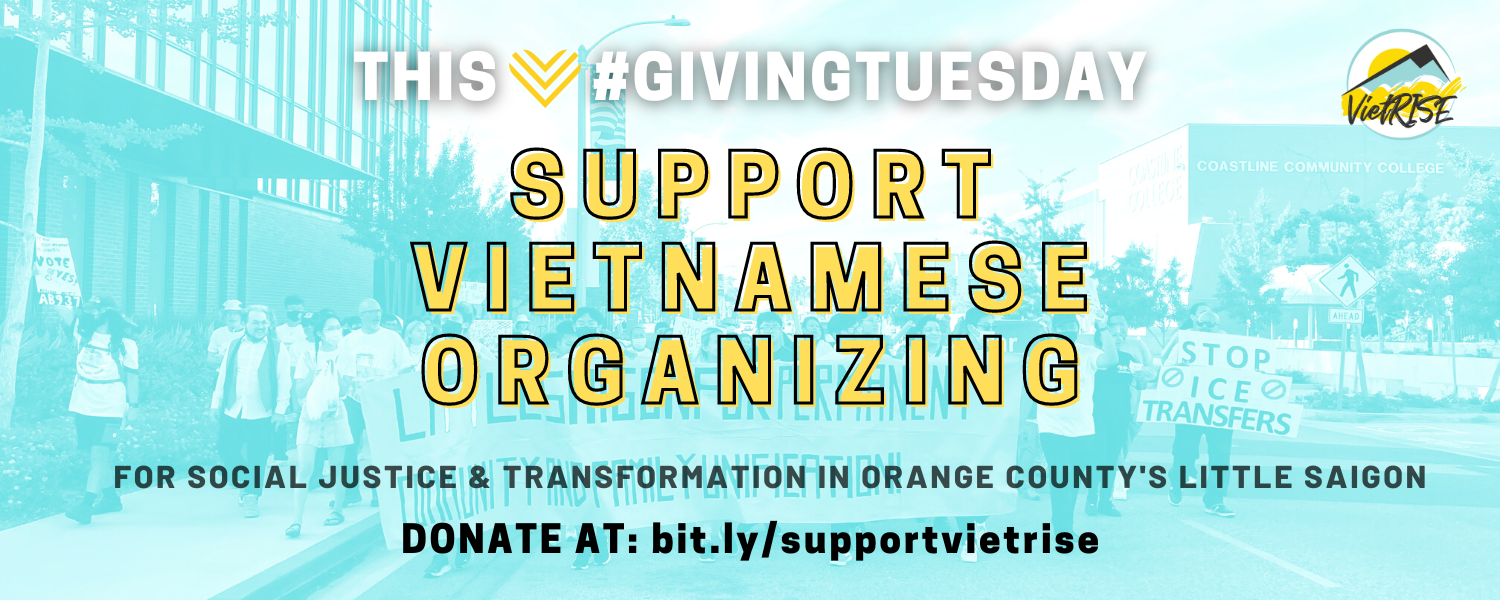 Tuesday, Nov. 28: Giving Tuesday
Giving Tuesday is a day of global giving, an opportunity for people everywhere to use their individual power and generosity to support their communities. This Giving Tuesday, we invite you to support and sustain our work by donating your time, skills, and/or resources to us.
History of Popular Resistance: Palestine Reading List
This list was curated by the Popular University of the Palestinian Youth Movement. This recommended reading list "offers historical context on Palestine through the prism of popular resistance" which continues to be their main resource in the fight for land, return, and liberation.
All Out for Palestine - Digital Action Toolkit
This toolkit was developed by the Palestinian Feminist Collective. This toolkit "is an offering and invitation to all lovers of freedom to join or deepen your engagement in the struggle for Palestinian liberation at this critical movement."
Accounts and Organizations to Follow with More Information About Palestine for a Ceasefire in Gaza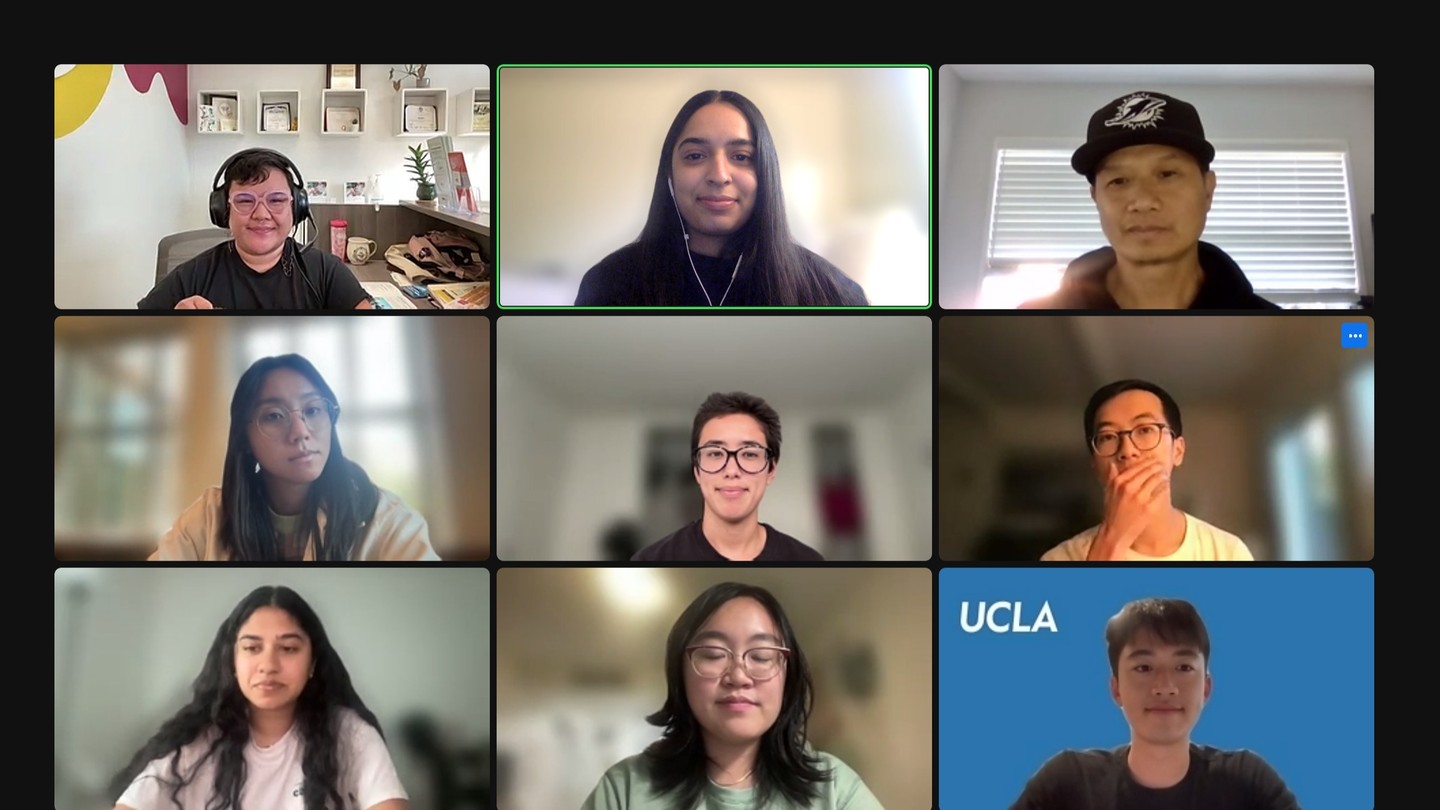 #KeepAnHome Pardon Campaign
On Tuesday, October 24, our staff members, Indigo and Tin, hosted a Keep An Home Letter Writing Workshop for the UCLA Law Pro Bono program. During the workshop, we had the opportunity to create awareness of An Thanh Nguyen's pardon campaign and the cruelty of double punishment, ICE transfers, and family separation. We ended with the students writing letters to Governor Newsom in support of An's pardon.
One student stated, "I am feeling motivated and energized to continue working on these advocacy efforts and will share the #KeepAnHome toolkit! Also looking forward to contributing more to VietRISE in the future."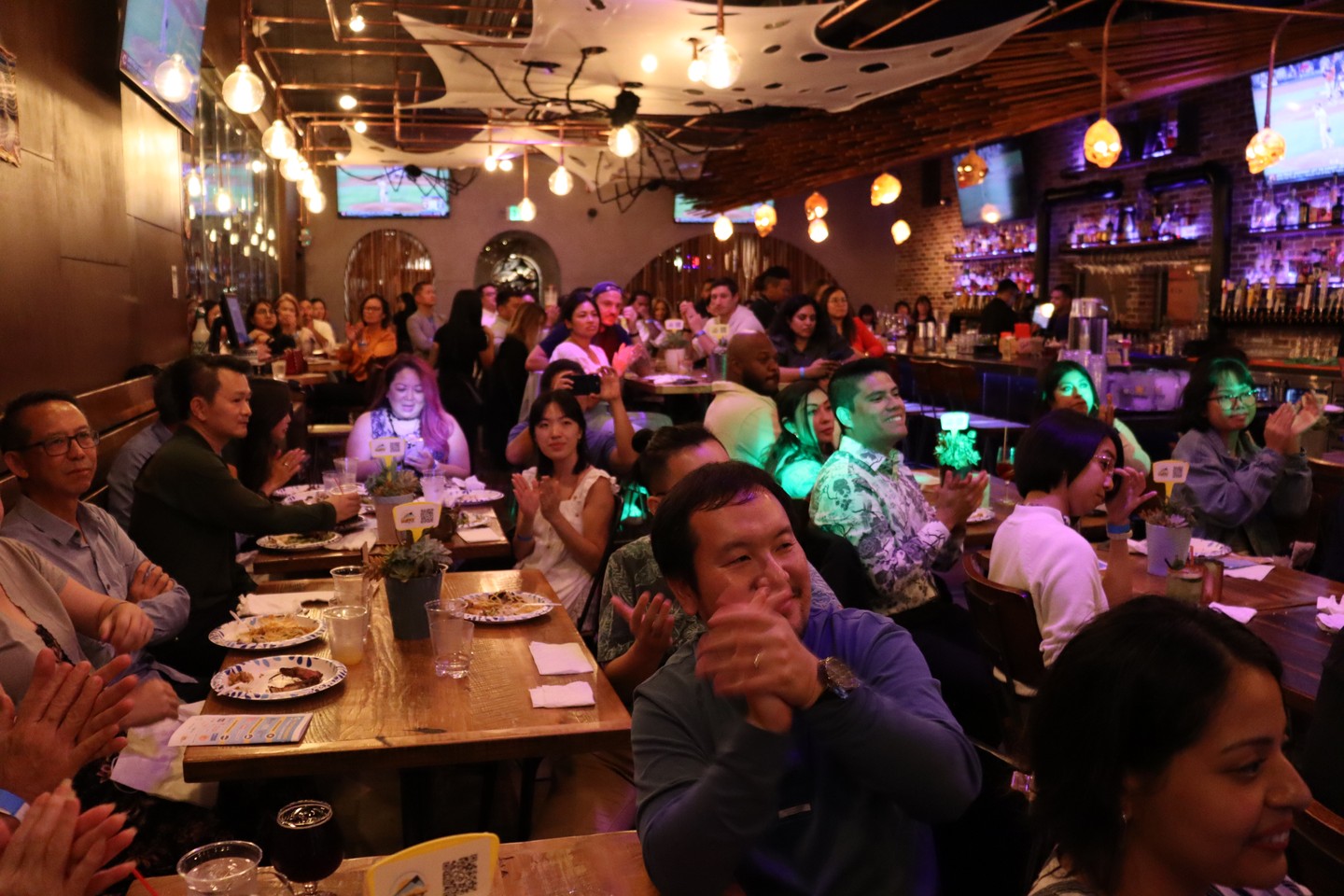 5 Years and Rising! VietRISE's 5 Year Anniversary Gala
Wednesday, Oct. 18, was a magical and joyous celebration of the communities we come from, our collective wins, and our liberatory dreams, where our working class and immigrant communities are safe and thriving. Thank you to the community leaders, neighbors, and loved ones who are the backbone of our work for your unwavering support and hope—this is for you and us.
VietRISE was born out of a recognition that the Vietnamese community in OC, which is the largest Viet enclave outside of Viet Nam, faced a range of challenges and that community members wanted and deserved change. We understand that the struggles our community faces are inextricably linked to many others affected by interlocking systems of oppression, and that the only way forward is by struggling together in solidarity with other impacted communities, at home and internationally. These past five years have come with many challenges, but in community with others, we are making waves and changes in OC.
To many more years of organizing and winning the world we deserve in our lifetimes! ✊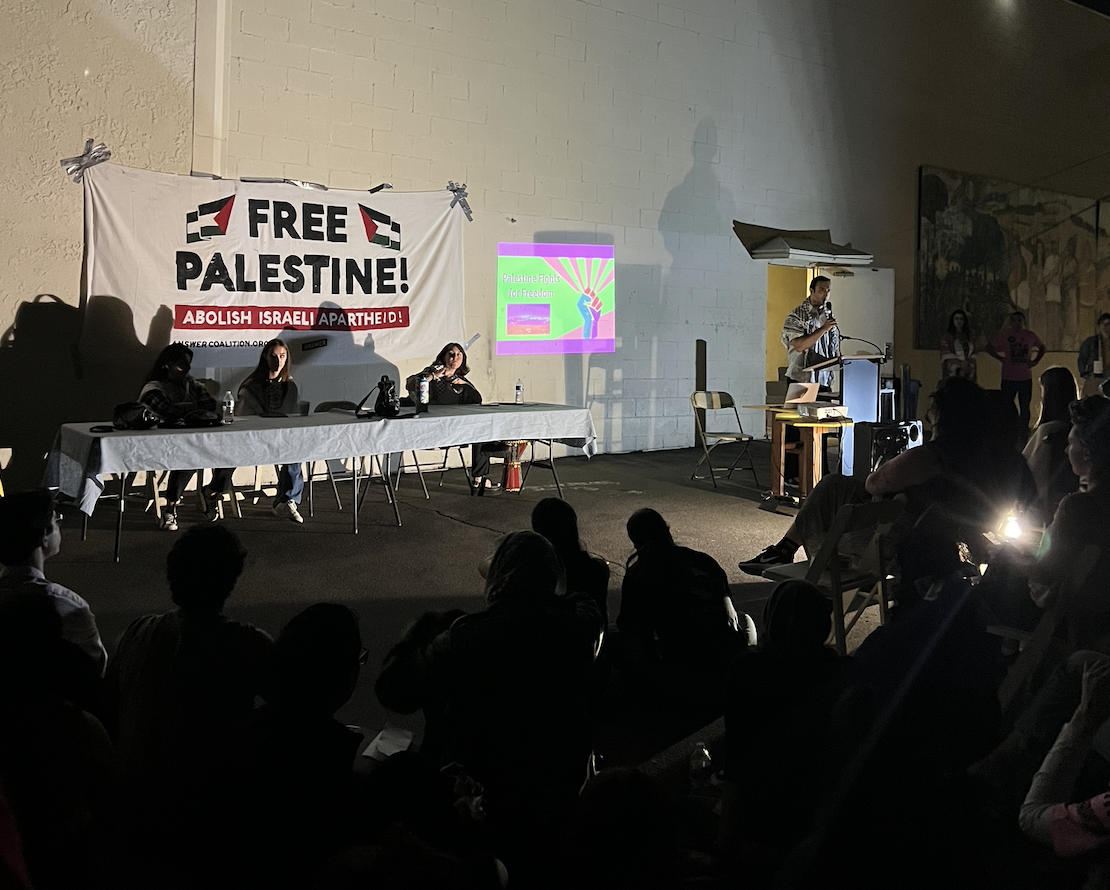 Palestine Fights for Freedom: Eye Witness Report
On Thursday, Oct. 19, VietRISE co-sponsored an event alongside IVC SJP, Yalla Indivisible, Arab American Civic Council, ANSWER coalition, El Centro Cultural de Mexico, Al-Awda, and PSL to hear from powerful Palestinian voices about the struggle for liberation in Palestine. It was beautiful to see over 300 community members come to the event, which was hosted at El Centro Cultural de Mexico.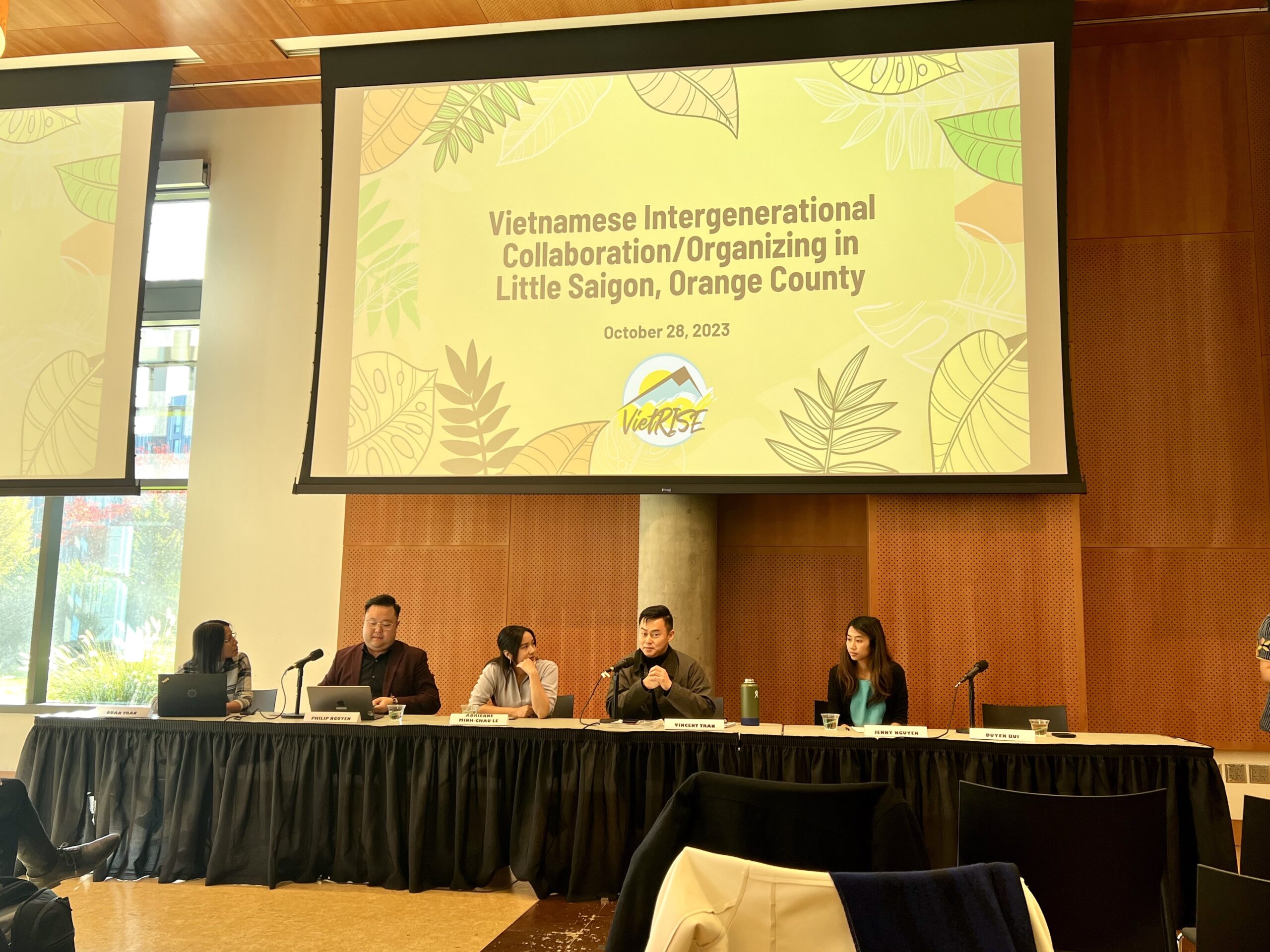 Conference on Towards the 50th Anniversary of the End of the War: Vietnamese Americans Contending with War and Postwar Legacies
During the last weekend of October, our leadership team went to Oregon for a conference hosted by the US-Vietnam Research Center. Our Organizing Director, Vincent, spoke on a panel about Vietnamese American youth concerns and aspirations, specifically our work on rent stabilization and immigrant rights through multigenerational and multiracial organizing efforts. It was wonderful to connect with so many great people!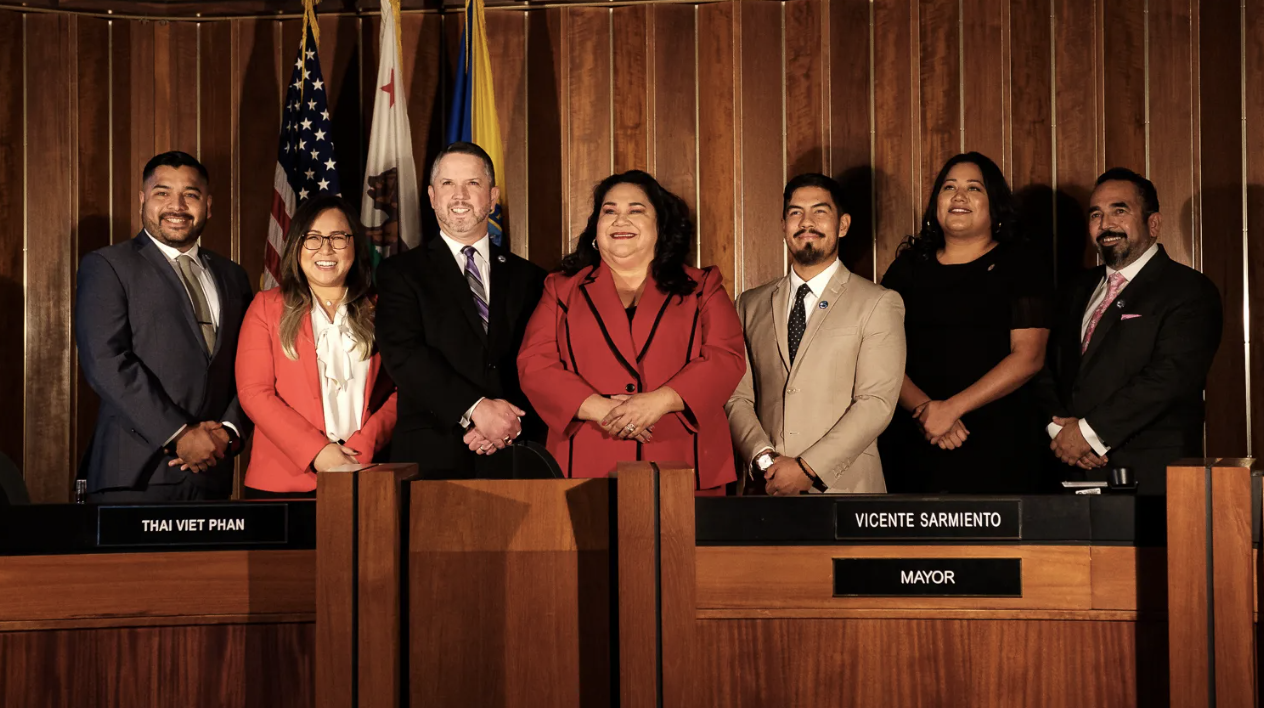 Voice of OC: Santa Ana Debate Over Rent Control and Noncitizen Voting Tears Open Council Split
Two campaigns that VietRISE is a leader of are underway in Santa Ana. These campaigns–1) placing the 2021 rent stabilization ordinance on the 2024 November ballot for voters to approve, and 2) noncitizen voting–are revealing who from the city council are there to protect mobile home residents and tenants, as well as to strengthen democracy, and who aren't.
"As Santa Ana's 3% cap on yearly rental increases faces legal challenges by landlord advocates, a majority of City Council members on Tuesday voted to seek public input on the issue – putting their historic 2021 law on the November 2024 ballot." Read the article here.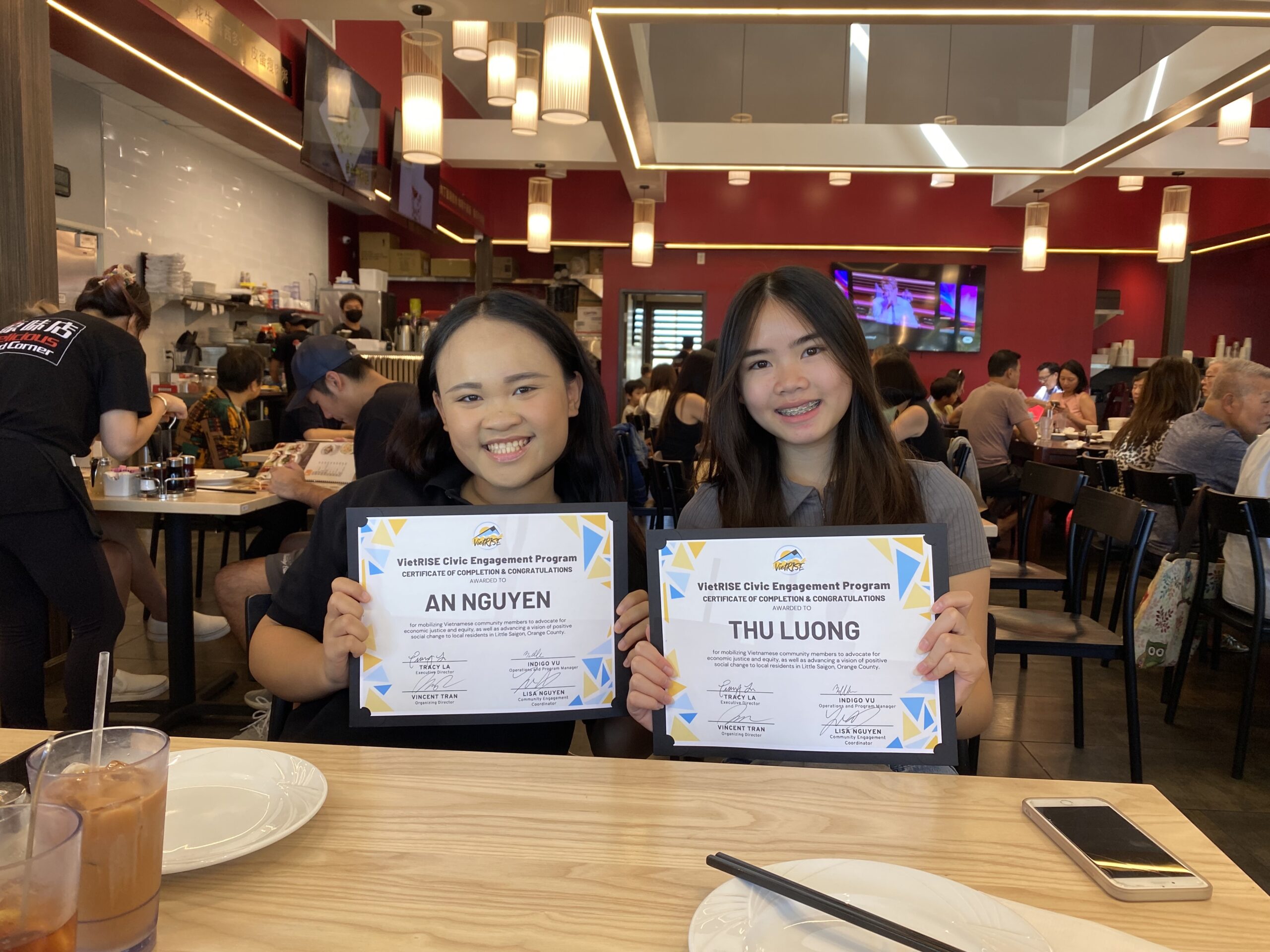 Huge thank you and congratulations to our Community Economic Resilience Fund canvassing program youth interns! Quynh, Thu, and An spent their summer going door-to-door, making sure that the voices of residents in Little Saigon are prioritized in identifying ideas and solutions for building an equitable and environmentally friendly economy, one that increases the number of high-quality jobs. It has been a joy witnessing their growth in civic engagement and community outreach skills over the past two months. Thank you for spending your summer with us!