Our Mission
VietRISE advances social justice and builds power with working class Vietnamese and immigrant communities in Orange County. We build leadership and create systemic change through organizing, narrative change, cultural empowerment, and civic engagement.
Donate to help sustain our mission, our movement, and the next generation of Vietnamese leadership: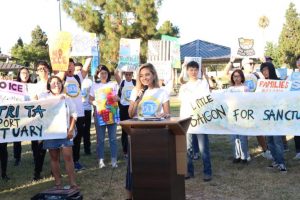 Keep up to date on VietRISE in the media (selected articles) and all of our posts, press releases, and media advisories.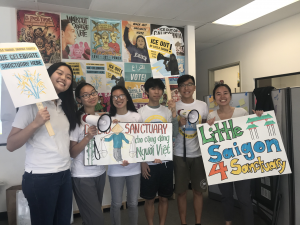 Stay up to date on our internship and program opportunities, community events, political tours of Little Saigon, and more.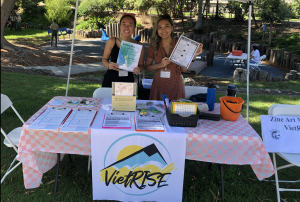 Learn more about volunteer opportunities and connect with us through social media, our newsletter, and more!
Updates
---
VietRISE COVID-19 Immigrant Community Relief Fund: The VietRISE COVID-19 Immigrant Community Relief Fund will provide cash assistance of $800 per individual for undocumented and impacted Vietnamese immigrants in Orange County who are experiencing financial hardship due to the COVID-19 pandemic. View our page to learn more. For questions, email Indigo at indigo@vietrise.org.
#KeepAnHome: Sign and share the petition to call on Governor Gavin Newsom to pardon An Nguyen, a Vietnamese refugee and community member facing deportation: bit.ly/keepanhome
#FreeKarim: Join us in the national campaign to free Karim Golding, a Muslim Jamaican immigrant who has been detained by ICE for over 4 years: bit.ly/freekarimnow