FOR IMMEDIATE RELEASE
June 12th, 2019
Contact:
Tracy La, (858) 598-7805, tracy@vietrise.org
Hieu Nguyen, (714) 244-9630, hieunuci02@yahoo.com
Garden Grove Community Scores Big Win by Securing the City to Light Up the Historic Clock Tower in Rainbow for LGBTQ+ Pride Month
Garden Grove City Council still says "No LGBTQ" pride flags, but Garden Grove youth and residents organized a huge win for LGBTQ+ Pride Month by securing the city to light up Garden Grove's historic Clock Tower in rainbow colors for the rest of Pride Month
GARDEN GROVE, CA — Dozens of Garden Grove youth, families, and workers attended the Garden Grove city council meeting last night to urge city council to celebrate the LGBTQ+ community by flying the LGBTQ+ pride flag during June, also known as Pride Month.  They called on city council to include the LGBTQ+ pride flag as a commemorative flag in their flag policy. Last night's action was the follow up to two previous consecutive city council meetings in which over 40 youth and residents came out in favor of flying the LGBTQ+ pride flag.  For community members, displaying the pride flag shows the city's commitment to protecting the rights, safety, and existence of LGBTQ+ people.
Despite overwhelming support from Garden Grove residents and a petition circulated by community groups, VietRISE and Viet Rainbow of Orange County (VROC), that has garnered over 250 signatures from residents, city council ultimately rejected the motion to fly the LGBTQ+ Pride Flag.  However, community members and organizations scored a victory for Pride Month by calling on city council to light up the city's historic Clock Tower in rainbow colors instead for the remainder of Pride Month.
The rainbow-lit Clock Tower, which stands at the entrance to Garden Grove's park, the Village Green, and adjacent to historic downtown Main Street, will be seen by thousands of residents and visitors every day for the rest of June.  This visible Clock Tower will send a message to everyone that the recognition of the LGBTQ+ community was won by community members who organized to make it happen, and they will always hold the city accountable to honoring and celebrating the LGBTQ+ community.
The motion to light up the Clock Tower was made by council member Kim Nguyen, who originally introduced the motion to fly the LGBTQ+ pride flag.  All seven council members were verbally in favor of lighting up the Clock Tower in rainbow to honor Pride Month, but did not make the official motion.
This victory comes on the same night that the cities of Irvine and Fountain Valley voted to not fly the pride flag.  As of today, the petition will continue to be circulated until the end of the month as a reminder to all that the Garden Grove community believes in flying the rainbow flag to truly honor Pride Month.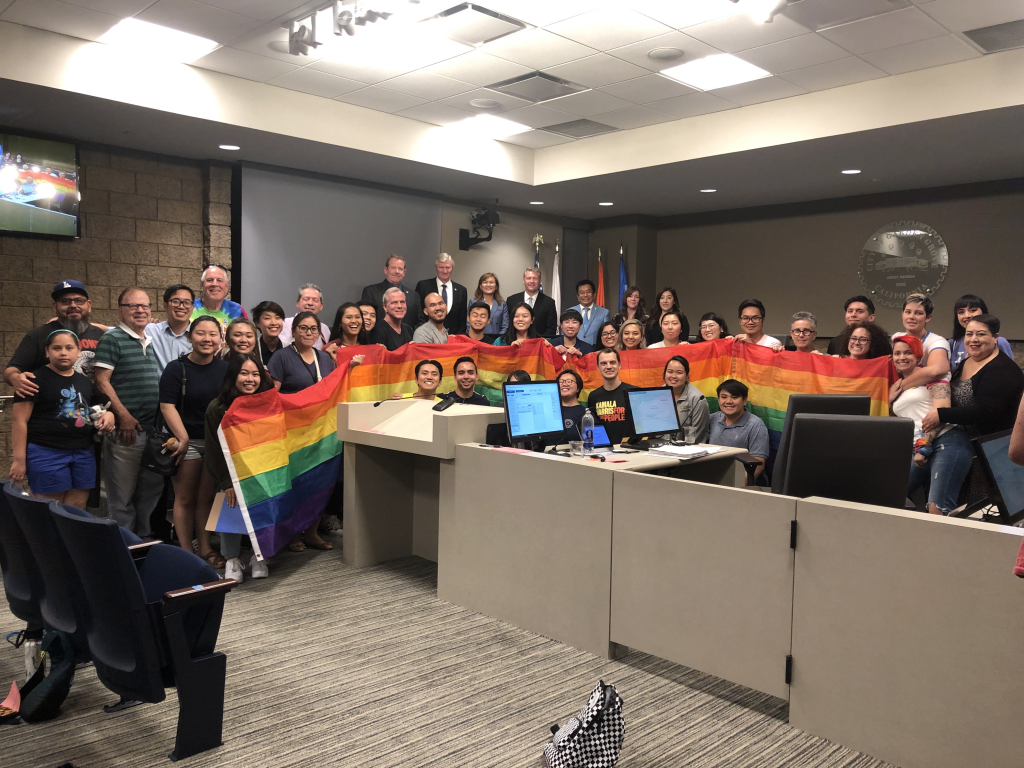 Garden Grove community members and city council pose with rainbow flags after Tuesday's city council meeting and LGBTQ+ community's historic win.
###