VietRISE COVID-19 Immigrant Community Relief Fund

About VietRISE
---
VietRISE is a non-profit organization. Our mission is to advance social justice and empower low-income Vietnamese and immigrant communities in Orange County. We build leadership and create systemic change through organizing, narrative change, cultural empowerment, and civic engagement.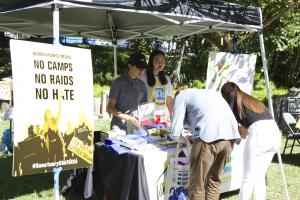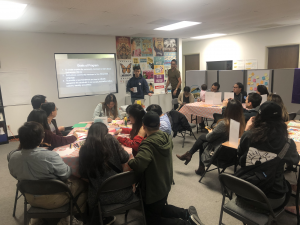 About the Relief Fund
---
The VietRISE COVID-19 Immigrant Community Relief Fund will provide cash assistance of $800 per individual for undocumented and impacted Vietnamese immigrants in Orange County who are experiencing financial hardship due to the COVID-19 pandemic.
There is an estimated 15,000 undocumented Vietnamese immigrants in Orange County. The fund will prioritize Vietnamese immigrants who have not received any state or federal relief for COVID-19. 
We hope to connect applicants with immigrant rights advocacy and community networks in the near future to build relationships between Vietnamese immigrants and other immigrant communities, and create systemic, policy change in the county and state that empowers immigrants and refugees.
How Much Funding is Available?
---
Each person who is approved for financial relief through this fund will receive an Omni (physical) cash card:
$800 per individual

$1600 maximum per household
Each cash card will include an additional $10 to cover administrative or ATM fees.
Who Can Apply?
---
This fund is for undocumented/impacted Vietnamese immigrants living in Orange County, CA. To be eligible for the fund, applicants must meet the following criteria:
Be Vietnamese

Have Impacted/Undocumented immigrant Status:

Undocumented /impacted Vietnamese immigrants

Immigrants with expired Green Cards 

Students with expired student or work visas

Vietnamese immigrants impacted by detention and/or deportation

Live in Orange County, CA

Have experienced financial hardship due to COVID-19 (for example: loss of income, temporarily not working, inability to pay rent, loss of job, etc.)

Be an adult 18 years or older

Preference will be given to those who are unable to qualify for other benefits (for example: CARES Act Stimulus, Unemployment, DRAI, etc.)
This fund is prioritizing Vietnamese applicants. People of other ethnicities may apply, but you may experience a delay of 2-3 weeks for us to review your application. The funds will be a one-time fund, one per individual, max 2 per household. If you are unsure of your eligibility, please give us a call at (714) 242-4139 or email Indigo Vu at indigo@vietrise.org.
Where Does This Funding Come From?
---
The funding that VietRISE will be distributing to Vietnamese community members through our fund came from our fundraising efforts that we received from individual and foundation donors through the California Immigrant Resilience Fund (CIRF).
The funding through VietRISE's COVID-19 Immigrant Community Relief Fund was made possible in large part to undocumented and immigrant community members' community organizing and activism efforts to provide financial relief for our undocumented community members.
Verification & Distribution Process:
---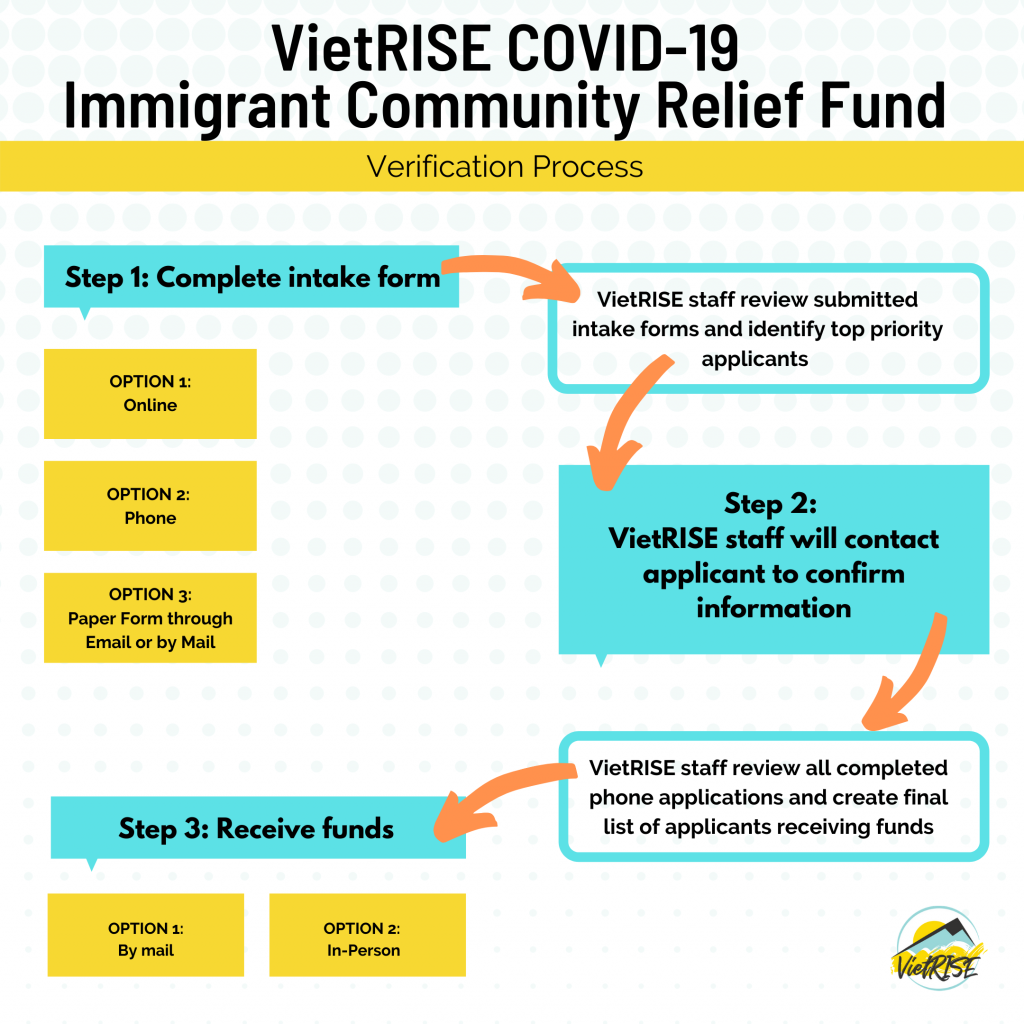 HOW TO APPLY
---
Please visit this link for detailed instructions. All options are available in English and Vietnamese.
1. To apply over phone: call (714) 242-4139.
Please leave a voicemail and one of our staff will call you back to assist you with your application.
2. To submit a paper form: print this PDF.
Please email the paper form to indigo@vietrise.org or mail it to our office at 14351 Euclid St. #1M, Garden Grove, CA 92843.
3. Apply online:
---
Frequently Asked Questions:
For a list of frequently asked questions (FAQ) and answers, please visit this link.
Share Our Flyers: